Events in Ukraine's nuclear sites push thoughts toward South Caucasus
A video that has recently gone viral showed a drone attack by the Ukrainian forces on Russian troops stationed in the occupied Zaporizhzhia Nuclear Power Plant (NPP) in Enerhodar city.
The drone offensive targeting the personnel disguised in military tents sparked outrage among nuclear experts and viewers who claimed it could trigger a nuclear accident that might affect a greater region.
Edward Geist, a policy researcher at think tank the RAND Corporation says at Zaporizhzhia, there is safety-critical equipment that is vulnerable to attack, including backup generators, power lines, power switches, and other equipment to powers emergency cooling.
"Is that as bad as a Chernobyl? No. Is that still a massive accident with huge onsite consequences? Yes, potentially," Geist
told
Insider, recalling the nuclear disaster at Ukraine's Chernobyl NPP in 1986.
Meanwhile, the events around nuclear sites in Ukraine push the thoughts toward South Caucasus, a region that has been living with a potential nuclear disaster threat due to the Soviet-era Metsamor NPP in Armenia.
The two-reactor Metsamor nuclear power plant is the only nuclear facility in the South Caucasus and is located about 36 kilometres from Armenia's capital Yerevan. The plant was launched in an earthquake-prone zone in the town of Metsamor and came online in 1976 without a containment building. In 1988, a 6.8 magnitude earthquake recorded in the nearby Spitak region, about 70 kilometres north of the plant, led to a humanitarian catastrophe and the closure of the facility. But by 1995, operation at the plant's second reactor was resumed.
As far back as 1995, observers termed it a "reckless gamble" with Armenia's future and the lives of millions of people living in the surrounding countries. At the time, the Nuclear Energy Institute in Washington, D.C. said in a report that Metsamor is not in line with Western-style safety standards, comparing it to Ukraine's collapsed Chernobyl reactor, which also lacked a containment building designed for preventing radioactive substances from spreading should an accident occurs.
Expert warning
Brenda Shaffer, an international energy and foreign policy specialist and a senior fellow at the Atlantic Council's Global Energy Center, wrote in a 2021 report that the Metsamor NPP poses a real threat to people in greater geography spanning Turkey, Georgia, Azerbaijan, Iran, Russia, and southern Europe.
Shaffer has then called for a permanent closure of Armenia's outdated nuclear facility.
"By closing Metsamor, Armenia would not only contribute to the safety of its own citizens and those in neighbouring countries but strengthen peace in the South Caucasus," Shaffer wrote.
Metsamor is mostly cited as the most dangerous reactor of its kind in the post-Soviet region and a catapult one of the world's five nuclear disasters waiting to happen along with the UK's Nuclear Submarine Fleet, the Cernavoda Nuclear Power Plant in Romania, the Leningrad Nuclear Power Plant in Russia, and the Enrico Fermi Nuclear Generating Station in the U.S. In 2011, National Geographic even labelled Metsamor as "the world's most dangerous nuclear plant."
Shaffer is convinced that Armenia could turn to thermal plants and renewable sources for replacing the output of Metsamor, over half of which is not even consumed domestically but exported to Iran. In addition, the country with a nearly 3 million population relies on Russia for the imports of the most in-demand energy resource – natural gas, which supplies 65 per cent of the country's overall energy consumption.
"Most energy in Armenia is used for residential purposes and transportation, with only 15 per cent consumed by industry," she wrote, adding in case of the closure of the Metsamor NPP and cessation of electricity exports to Iran, Armenia could meet the remaining domestic needs with a thermal-powered electricity plant.
Meanwhile, a source at the State Agency for Regulation of Nuclear and Radiological Activities under the Emergency Situations Ministry of Azerbaijan told Caliber.Az that one of the key sources of a possible nuclear incident at Metsamor is nuclear waste. According to him, NPP management regulations suggest such wastes be shipped to processing plants after five years since their output, however, Armenia is unable to take it out of the country.
"The nuclear waste processing plant is located in Russia, which doesn't have a border with Armenia. Air shipment of radiological substances is prohibited. The only way is an overland transit, which is blocked by Armenia's neighbours Georgia and Azerbaijan under their respective legislature and international obligations," he said.
Authorities of Georgia and Azerbaijan have been constantly voicing their concerns over the operation of outdated Metsamor NPP. Members of the country's parliament have warned Yerevan to close the facility immediately given its unprecedented threat to the regional countries. Azerbaijan's Foreign Ministry has also voiced similar concerns calling on the international community to advocate for the suspension of Metsamor's activity. The Metsamor NPP locates 120 kilometres and 60 kilometres from the borders of Azerbaijan and Georgia, respectively.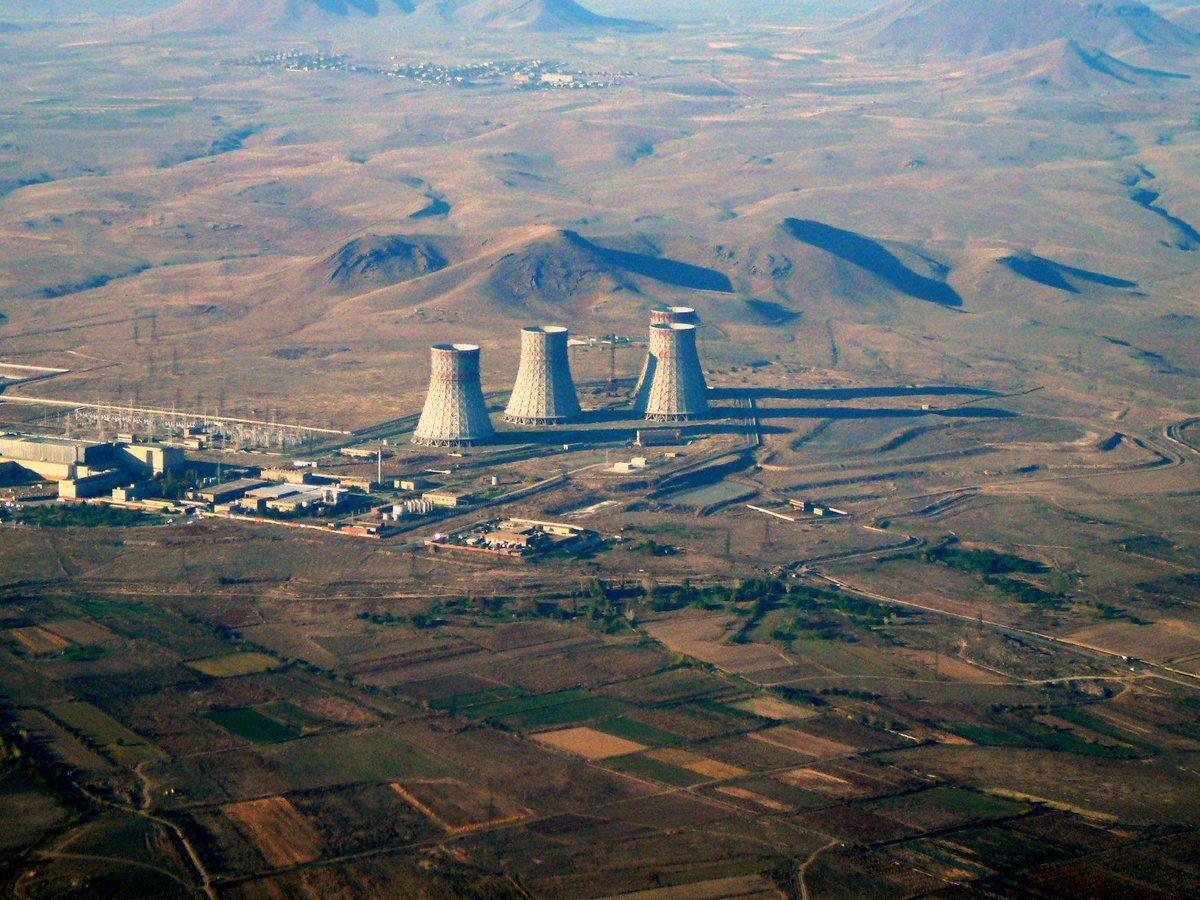 Armenia's response to calls
Armenia and the European Union have been negotiating to close Metsamor NPP since the late 1990s. Armenia agreed to shut down the reactor in 2004 and even received funds from the EU for this purpose and for exploring substitute energy supplies. However, Yerevan's unwillingness to close the plant led to failure and the grant aid was frozen in 2005. The subsequent formal cooperation agreements between the EU and Armenia, including in 2006, 2011, 2016, and 2017 have all failed to produce a final agreement for the closure and decommissioning of the obsolete nuclear complex. Yerevan has reportedly held simultaneous talks with Moscow to extend the reactor's lifespan.
Following the negotiations with Russia, the service life of the Metsamor NPP has been extended until 2026, with an option for an additional 10-year extension by its anticipated decommissioning in 2036. The plant currently churns out 40 per cent of Armenia's overall electricity need.
The "Nuclear Safety and Security in Europe" resolution notes that 82 out of 184 reactors in Europe have been in operation for 35 years or more, and roughly one in six reactors, including Metsamor NPP, are already outside their 40-year lifespan. The EU has insisted on the shutdown of Armenia's outdated nuclear plant and similar facilities in Bulgaria, Slovakia, and Lithuania. All except Metsamor were closed.
Amidst expectations for the closure of the plant, Armenian Prime Minister Nikol Pashinyan discussed the future operation of Metsamor's second power unit, as well as the possibility of building a new nuclear power plant in Armenia, and the development of nuclear energy with Russian Rosatom's Alexei Likhachev earlier this month.
Rosatom upgraded the Armenian nuclear power plant in March 2021 to increase its efficiency and safety. On 20 January 2022, Rosatom and the Metsamor NPP authorities signed a memorandum of understanding on developing possible cooperation in the construction of new Russian nuclear power units in Armenia.
In the meantime, two nuclear research facilities also exist in Armenia: the Yerevan Institute of Physics and the Analitsark Research Facility in Gyumri. The Yerevan Institute of Physics holds a sixgiga-electronvolt electron ring accelerator and participates in research on accelerator physics. The Analitsark Plant produces analytical and testing devices for nuclear power plants.